When planning your wedding there is so much to think about it can sometimes feel overwhelming. 
So we thought we would break it down for you, and give you a simple guide, including some of our own personal recommendations. 
Wedding trends are always evolving
Trends evolve year after year which means that your wedding will differ a lot from the one you attended last year and will be distinctly different again from those weddings coming up over the next few years. There are always new trends that pop up every now and then that no-one has ever thought of before and that are completely new but most are variations on existing ideas – just done in a slightly different way and updated. Which means that the options available to newly engaged couples just continues to grow.
Personalise your wedding day
The latest trend is for a more personalised wedding – incorporating your own personality into your big day, and there are various ways you can do this. Our sister company, Sweetness & Lights Events, specialises in personalised welcome boards – from a smaller A1 size to the larger 5ft display. Instead of just a generic floral background, why not use a favourite photograph?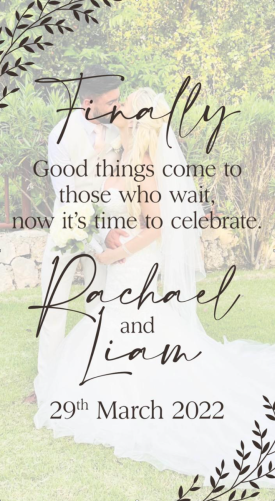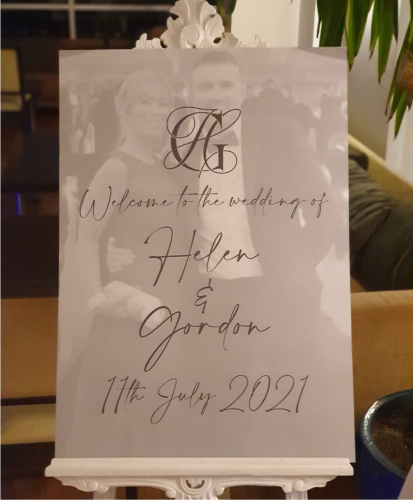 Some of the most recent weddings we've planned have had the engagement photo of the couple as the background, faded slightly so that the chosen wording stands out in the foreground. The board is then yours to keep after the wedding – how cool is that?
Choosing a theme for your wedding.
There are so many different themes and ideas for weddings, but if you go with making your wedding as personalised as you can, then you will know what theme suits you as a couple.
You could go for a classic theme, modern or vintage, bohemian or rustic. You could have a beach theme - either creating the theme at a venue, or actually having a beach wedding. Other location ideas, which could also be created as a style in a venue like The Mill House are "barn" or "garden/backyard". With more "out there" ideas too, you could have a Disney theme, movie theme, seasonal theme, sunflower theme, or even halloween.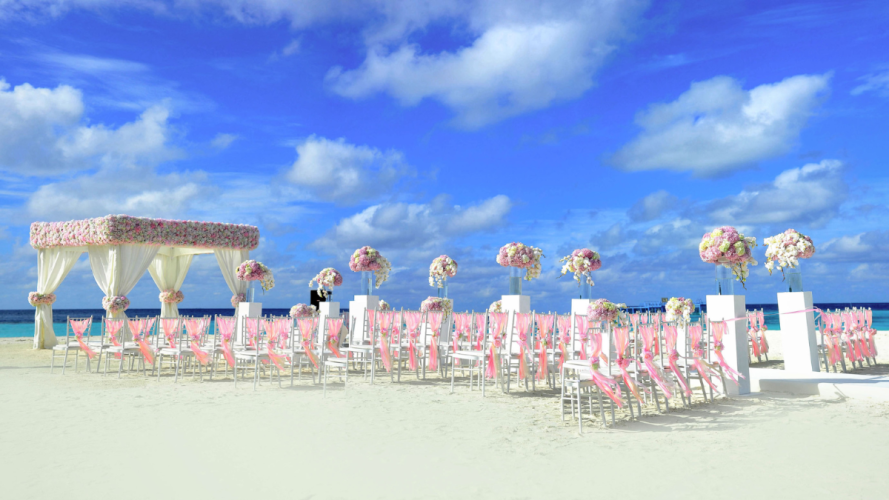 A growing trend - "The first look" 
As a side note, another growing trend that couples are doing is scrapping the idea that they don't see each other at all before the ceremony, and they are now having a moment together before they meet down the aisle - called "the first look". 
Choosing a colour palette for your wedding.
Colour trends that we've seen a lot recently are sage green & blush, various shades of purple, and dusty blue & sunflower (not all at once!).  We've also seen a lot of darker colour palettes which might seem scary when compared to the romantic blush pink décor that is ever popular for weddings. But these darker shades are so on trend that you may want to consider using them in a smaller way – more as an accent colour with a larger, more neutral colour palette. 
Here at The Mill House, we especially like the modern graphite grey and copper themes running through (very much a part of our interior design with copper being very similar to rose gold and a long lasting trend which has been extremely popular over the last few years).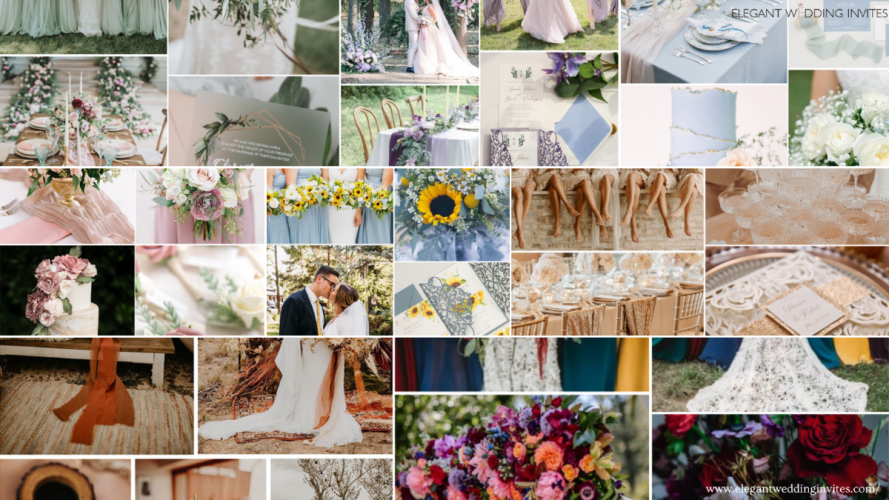 (For more detailed information about these colour scheme ideas go to https://www.elegantweddinginvites.com/wedding-blog/wedding-color-trends/)
Choosing your wedding invitations.
 Invites, along with "save the date" and place settings, are an important part of your big day. Whether you prefer elegant, simple, luxury, rustic, affordable or modern - there are some beautiful designs and ideas to choose from:
Floral

A wrap style 

Velvet

Gold leaf

Laser cut

Acrylic card

UV velum

Frosted
To name a few. These days the world is your Oyster.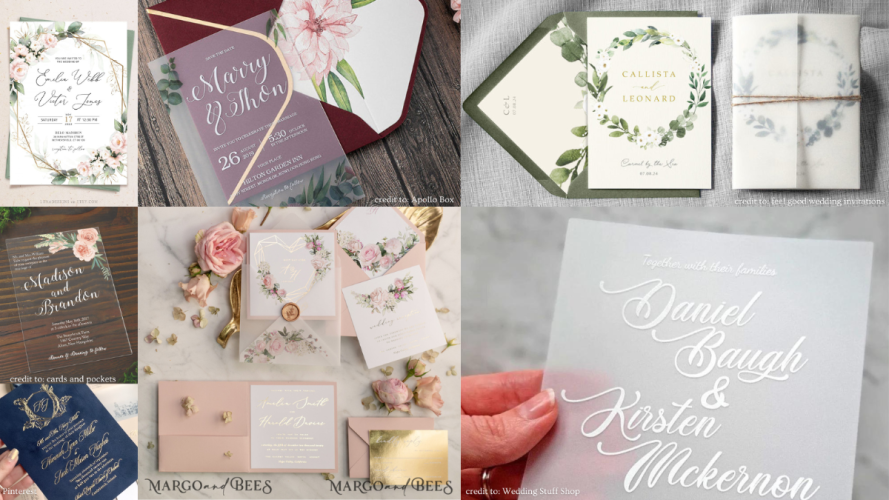 An overlay on invites with calligraphy writing and beautiful artwork underneath is one way to make your invites stand out, but whatever suits your theme, and is personal to you is the way forward.
Choosing your style of wedding ceremony.
The days of a single aisle with rows of chairs either side are fading with a new trend of ceremonies 'in the round'. Couples are more open to doing the ceremony in a "circle" with the centre table surrounded by a mix of bride and groom, friends and family. 
There are quite a few venues open to staging the ceremony in a different way so that the ceremony is conducted in the centre of the room with chairs positioned in semi circles around the couple. Weddings abroad have had this idea for a while and it can feel more inclusive for your guests. Instagram and pinterest are always good for pictures to give you ideas.
Choosing your wedding cake
While dessert displays with an assortment of treats were big in the past few years, couples are now trending back towards one big, focal, statement cake instead. 
Huge statement cakes - 4-5 tiers, seem to be the thing - almost the size of a person.
Semi-naked cakes are also popular at the moment which have a thin frosting layer on the exterior of the cake that can be dressed up with flowers and simple cake toppers depending on the theme. This is a more boho cake design - natural, eclectic bohemian style with lots of neutral colour florals, vintage and wood feelings. The accents are what really make this type of cake and are good for barn weddings, outdoor weddings, forest themed or cottage style weddings.
Other popular wedding cake colours at the moment include pastels, dusty rose, blush pinks, navy blues, dusty blues, burgundy reds, dusty oranges, ivory, and champagne.
Choosing your wedding decor
 Look around at recent trends in the media and on the TV. Bridgerton has been a really popular show on Netflix, so look at silver candlesticks, linen napkins, lace overlays and crystal glasses.  This classic ballroom style is certainly having a resurgence in popularity. 
A royal wedding touch
The Sussex's Royal wedding incorporated a lot of really large floral displays and although we'd all love to have their budget – you can opt for less expensive items that still give the overall feel of bringing the outdoors in, with floral arches, blossom trees, hanging flowers and over the door installations. This can also help with the unpredictability of the weather here in rainy Lancashire.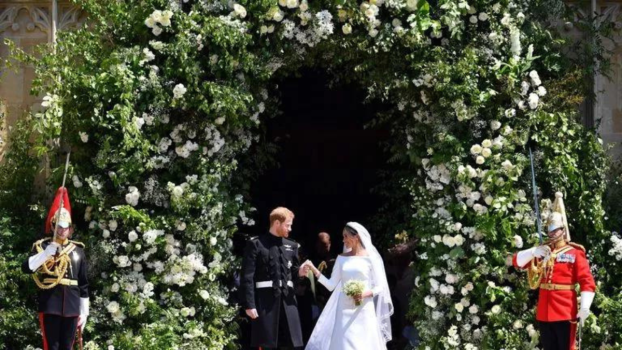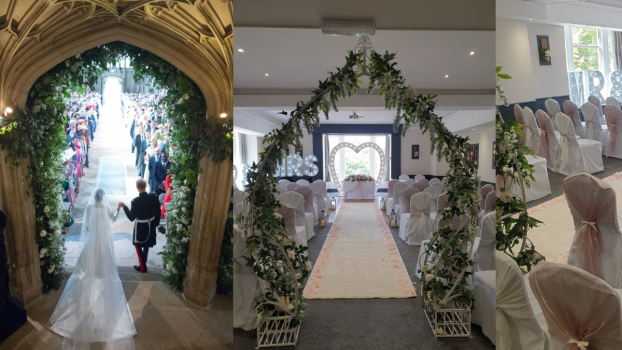 A sustainable wedding
Sustainability in décor has really been a recurring theme as well so maybe look for an alternative to fresh flowers for your bouquet and table décor.  
Having said that - who else thought that the wreath from King Charles on top of her majesty Queen Elizabeth II's coffin, made up of various flowers that had special meanings was the most beautiful and thoughtful thing you'd ever seen? 
The wreath included myrtle cut from a plant which was grown from a sprig used in the Queen's actual wedding bouquet. Myrtle is often used to symbolise a happy marriage, rosemary to represent remembrance, and English oak, to symbolise the strength of love. 
The other flowers in the wreath were in shades of gold, pink and deep burgundy, with touches of white, to reflect the Royal Standard. At King Charles's request, the wreath was made in a sustainable way, in a nest of English moss and oak branches, with no floral foam. Just stunning! (Images curtesy of Getty images - Christopher Gurlong & Gareth Cattermole.)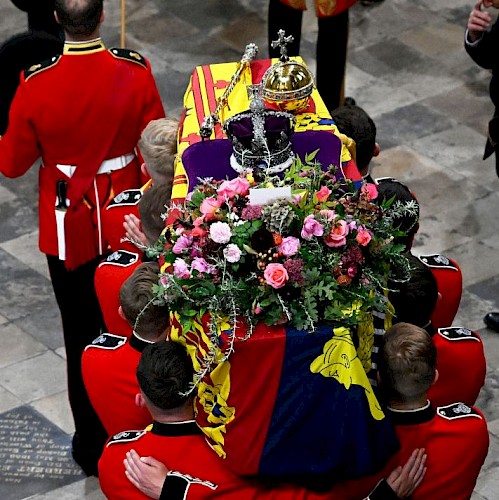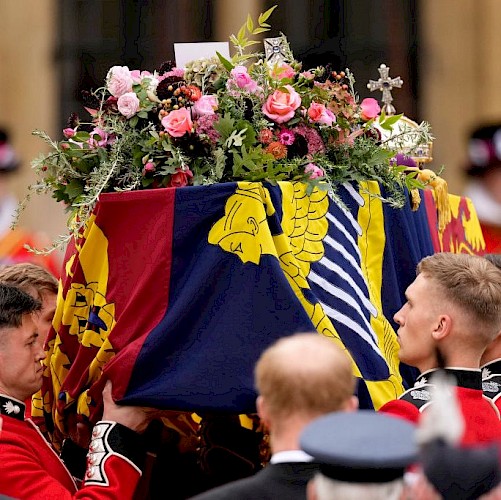 If you're not feeling "Royal", maybe have your name in lights 
Big light up letters are ever popular but instead of the usual "MR&MRS" or "LOVE" – go along with the more personalised theme and have your surname teamed with a smaller set of Mr&Mrs lights. Or even a large personalised disc or love heart with the name of the bride and groom and the wedding date, covered with an organic arch of balloons to match your colour scheme.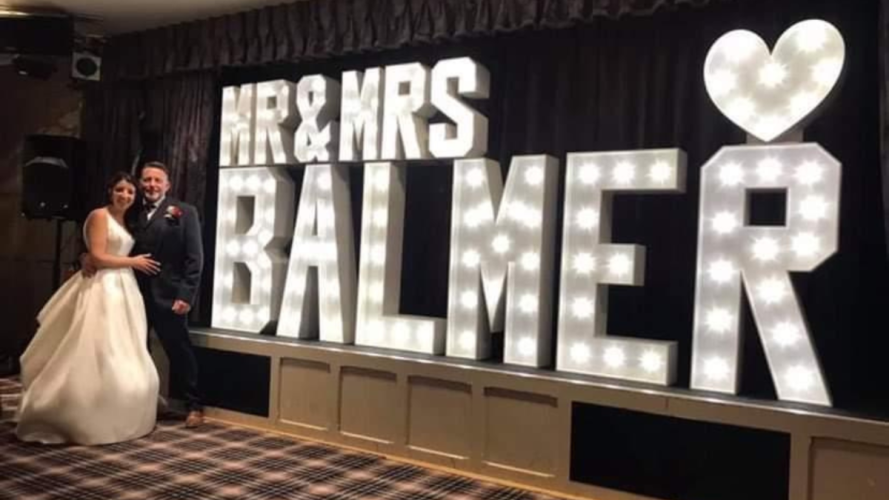 Let your wedding twinkle
Fairy lights are an elegant added extra to any decor. Adding a sparkle during the day, and that romantic feel after the sun goes down. Strings of fairy lights, curtains or walls of lights, or even neon lights and signs create a really lovely effect.
Neon signs are a colourful, unexpected decor option that can modernise your big day. Vibrant and playful, they can also be purposeful and be used to direct guests, label stations, tell stories and even convey important wedding details like the date, your hashtag or your new monogram. 
They can do all this while lighting up your party. They can be hung in various ways to create an eye-catching display and the wording can convey a particular feel and emotion that describes you perfectly.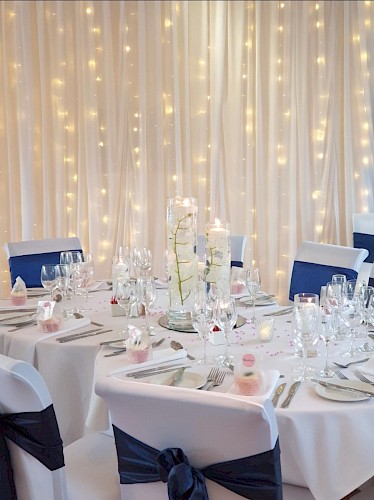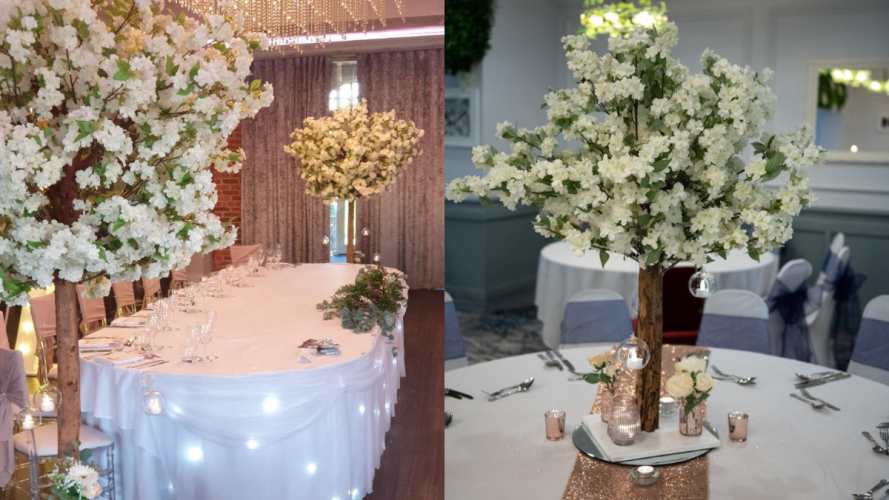 A colourful display
As a backdrop in a photobooth, lighting up the entrance to your venue, lighting up a DJ setup - neons can be made in any colour to say anything you want. Don't just stick to white either - a colourful neon can work really well and can ensure your photos really pop. With the option of hiring a ready made neon, take the guesswork out of how to display it or look at pinterest for inspiration. Talk to your wedding planner to see if they know of any companies that hire them out, or try our sister company - Sweetness & Lights Events.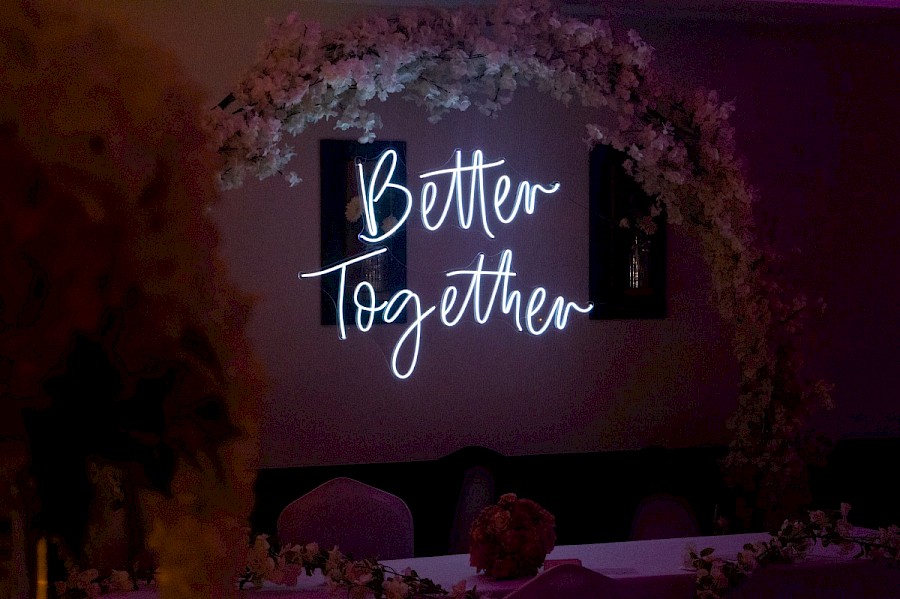 Finishing touches
Centrepieces, signs - directing people, or sweet carts with quotes about love etc, guest books, food displays, photo displays, memory tables, acrylic signs, sequin walls, a large feature table plan, can all convey more personalised touches.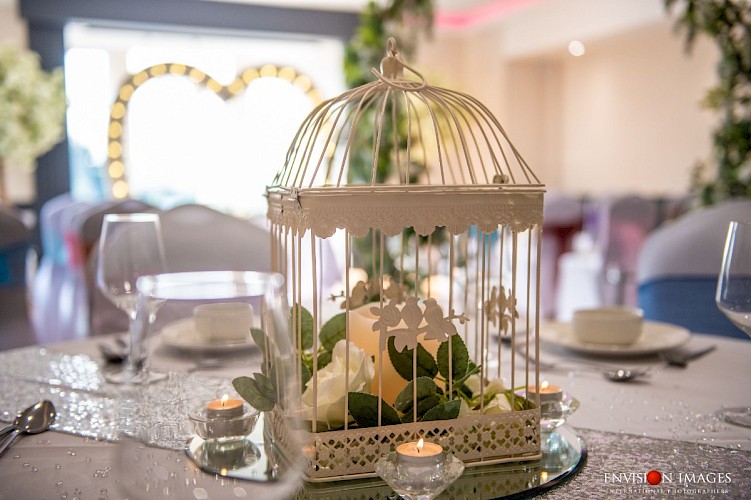 What about a goody bag?
Another big trend is table favours like goody bags. Try sending invites out electronically and then have a goodie bag waiting for each guest as they arrive. Including their favourite snacks, sweets, mini bottles of bubbly, or small pots of homemade jam can be a really lovely surprise. 
If you know your guests have travelled some distance and don't know the area, a handy local guide with some fabulous go-to spots marked on is a thoughtful addition. Post party recovery kits are a fun and playful touch - eye masks, alka-seltzer, do-not-disturb signs, etc.
Personalised place settings are also a lovely touch. Couples are starting to replace generic name cards with handwritten notes. Writing a note at each place setting is a special touch to include your guests into your day. The notes could be thanking your guests for being there or reminding them of special times you've had together as a couple.
Other thoughts for wedding trends for 2022-23.
Another trend that we've seen coming through is the wearing of pearls – these hold particular meanings with loyalty, purity, integrity and wisdom being at the top of the list – all the things you need on your wedding day as well as giving a nod to tradition, and to royalty.
Bridal suits rather than dresses are available too. The traditional wedding party is being mixed up -  with brides choosing "bridesmates", "groomsmaids" or a "man of honour".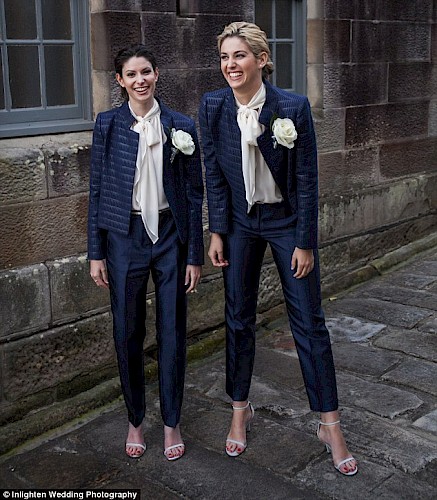 Wedding day art
You can hire an artist to capture some of your big day. Cartoonists at your reception are a great idea and having your event captured on canvas can be truly magical and a unique keepsake. Having you and your guests 'help' to paint the canvas is a beautiful touch too. Stuart Barkley - The Wedding Painter at your Wedding, is a local artist who can transfer your wedding reception onto canvas whilst you are actually enjoying your day! 
For other local companies that we personally recommend, see our list below.
The Alternative Florist for felt flowers - https://alternativeflorist.co.uk/
Make-Up by Kelly Waters - https://www.makeupbykelly.co.uk/
Celebrant - Joanne Lazarus - https://www.joannelazaruscelebrant.co.uk/ 
Photography and Videography - https://envisionimages.co.uk/
Food and Catering - http://cheekandtongue.co.uk/
Keepsakes – The Wedding Painter live at your Wedding | Facebook
Event Décor – www.sweetnessandlightsevents.com